Insulation Supply Company is proud to be the recipient of the 2012 TE Americas Specialty Distributor of the Year Award for customer and sales growth. TE has been consistently instrumental in supporting our efforts to provide award-winning world class support to our customers and we're proud to have them as a partner.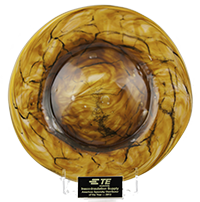 <!-============================================================-->
Raychem Tubing
Raychem heat shrink tubing and harnessing products have been around for quite some time. In fact, it was Raychem (now a brand name of TE Connectivity) that invented it!
Wikipedia has this to say about this extremely versatile group of products:

"Heat shrink tubing (or commonly "heat shrink") is a tubing which shrinks in diameter when heated. Its diameter and thickness can vary, and there are three main categories, thin-wall, medium-wall and thick-wall tubing. It is rated by its expansion ratio, a comparative of the differences in expansion and recovery rate. Heat shrink is used to insulate wires offering abraision resistance and environmental protection for conductors, connections, joints and terminals in Electrical Engineering. It can also be used to repair wires, to bundle wires together, and to protect wires or small parts from minor abrasion. It is used to create Cable Entry Seals offering environmental sealing protection between bulkheads and adding sealability to electrical junction boxes.

Heat shrink technolgy is not limited to tubing. Other heat shrink products include heat shrink boots, transitions, molded parts and solder sleeves, for example. We'll limit this page to heat shrink tubing.

Clearly, there are a great many uses for heat shrink tubing but how does one choose the right type for the particular application? The following listing of general product properties may be of help. In mission-critical applications it a best to get expert advice, if you're unsure. Our field engineers and inside sales staff are happy to help. Feel free to give us a call at 1-800-457-7715 between 8AM and 5PM, Pacific Time, Monday through Friday.