Equipment Matters
There are times when old technology actually outshines the technology of today. Insulation Supply Company uses old Kingsley hot stamping machines alongside of our modern thermal transfer machines. While thermal transfer is very capable, hot stamping has some caabilities that are otherwise unattainable. One example would be the use of gold shiny foil for decorative applications. Another would be the use of specifically designed foils used to meet various specifications.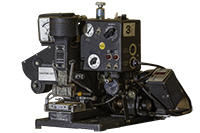 <!-============================================================-->
Hot Stamp Printing on
Tubing and Cable Ties
Hot stamping is a method of dry printing using a heated die and specially coated foil to apply letters or graphics to a surface. It's a process that has been used for decades in the creation of greeting cards, gift cards, business cards and other decorative applications. There are many industrial uses as well, such as;
Shrink and non-shrink tubing
Cable ties
Identification plates
Logos
Security seals
Hot stamping using this type of equipment requires an understanding of the relationships of pressure, temperature, dwell time and their effects on various material/foil combinations. Sometimes even the weather can affect the outcome of the final product. Our specialized machine operators combine this knowledge with the craft of typesetting to produce products that can only be made with these vintage methods.