INSCO Wins BAE Gold Subcontractor of the Year 2020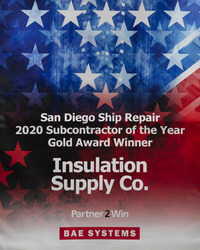 INSCO is a member of


Counterfeit products can lead to catastrophy. Authorized suppliers are your safest source for any electronic component. We only sell genuine, factory new merchandise.
AS9120B Certified
Please be aware that OASIS.IAGQ.ORG has updated to OASIS V3. The last iteration of OASIS is no longer being updated. There have been ongoing technical issues and a backlog of supplier records updates which causes supplier validation challenges. We appreciate your patience.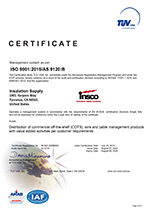 Overstock Parts List List posted 9-1-2020
These items are factory new but are slower movers for us.
This list is posted at random times and may not reflect current inventory. Please be aware that these items are subject to prior sale. Please call for pricing and availability. Don't forget to mention you saw the items listed here on the overstock page.
| | | |
| --- | --- | --- |
| Product Number | Onhand | |
| 1/4_HT_UR | 50 | FT |
| SO63-3-01 | 175 | PC |
| FP-301-1-BLK-50FT | 50 | FT |
| 54155-TB | 794 | PC |
| L-4-18-0-M | 28000 | PC |
| LS-4.6-360A | 100 | EA |
| TY242MX | 3000 | PC |
| TY25M-2 | 1000 | PC |
| 5/8_PYROJACKET | 50 | FT |
| 503500726 | 100 | EA |
| #0_ACRYL_C_NAT | 250 | FT |
| #11_EX-FLEX_BLK | 963 | FT |
| #12_1151-XL-200_A1_NAT | 750 | FT |
| #14_1151-XL-200_A1_NAT | 246 | FT |
| #14_ACRYL_A_NAT | 1114 | FT |
| #14_EX-FLEX_NAT | 9479.5 | FT |
| #18_EX-FLEX_NAT | 5965 | FT |
| #2_1151-FR_A1_WHT | 125 | FT |
| #2_EX-FLEX_BLK | 1350 | FT |
| #5_1151-FR_A1_WHT | 574 | FT |
| #5_EX-FLEX_1500_BLK | 500 | FT |
| #5_EX-FLEX_1500_NAT | 1500 | FT |
| #7_1151-FR_A1_WHT | 1800 | FT |
| 1-1/4INCLR.FLEX-GUARD_PE | 1000 | FT |
| 1/2_1151-XL-200_A1_BLK | 500 | FT |
| 1/2_ACRYL_C_NAT | 24 | FT |
| 1/2_EX-FLEX_NAT | 600 | FT |
| 1/2_FLEX-GUARD_FPE_BLK | 15220 | FT |
| 1/2_FLEX-GUARD_H_BLK | 790 | FT |
| 1/2_FLEX-GUARD_PE_BLK | 4833 | FT |
| 1/2_FLEX-GUARD_PE_NAT | 3000 | FT |
| 1/2_NYMAX_BLK | 250 | FT |
| 1/4_FLEX-GUARD_FPE_BLK | 10944 | FT |
| 1/4_FLEX-GUARD_PE_NAT | 4000 | FT |
| 1/8_FLEX-GUARD_FPE_BLK | 1378 | FT |
| 1/8_FLEX-GUARD_PE_BLK | 2374 | FT |
| 1_1/2_1151-FR_A1_WHT | 349 | FT |
| 1_1/4_FLEX-GUARD_H_BLK | 250 | FT |
| 1_1/4_FLEX-GUARD_PE_BLK | 2500 | FT |
| 3/4_FLEX-GUARD_H_BLK | 650 | FT |
| 3/4_FLEX-GUARD_PE_BLK | 2855 | FT |
| 3/4_FLEX-GUARD_PE_NAT | 1550 | FT |
| 3/8_ACRYL_C_NAT | 250 | FT |
| 3/8_FLEX-GUARD_H_BLK | 1000 | FT |
| 3/8_FLEX-GUARD_PE/HD_BLK | 500 | FT |
| 3/8_FLEX-GUARD_PE_BLK | 6305 | FT |
| 3/8_FLEX-GUARD_PE_NAT | 1500 | FT |
| 5/8_ACRYL_C_NAT | 280 | FT |
| 7/16_ST_NAT | 4300 | FT |
| 08376-0 | 25000 | PC |
| 08412-0 | 60379 | PC |
| 08432-0 | 3000 | PC |
| 10325-0 | 1000 | PC |
| 10C9101726 | 7500 | PC |
| 10C9500490 | 15000 | PC |
| BPSPT-125-1-WT | 5 | RL |
| BPSPT-125-175-WT | 2 | RL |
| BPSPT-187-1-WT | 4 | RL |
| BPSPT-250-1-WT | 4 | RL |
| BPSPT-375-1-WT | 2 | RL |
| PS-187-2-WT-S | 2 | RL |
| PS-500-2-WT-S | 2 | PK |
| R4300 | 3 | EA |
| THT-15-423-2.5 | 2 | PK |
| Y494729 | 171000 | PC |
| Y95976 | 123000 | PC |
| CF105-1INX36YDSX.005-THICK | 42 | EA |
| CB-DWT-3X-1/2-BLK-100 | 860 | FT |
| CB-DWT-3X-3/8-BLK-330 | 660 | FT |
| CB-HFT(600)-1/8-CL-SP | 10859 | FT |
| CB-HFT(600)-3/8-WH-SP | 330 | FT |
| #11_NUFLEX_HT-520_NAT | 22760.8 | FT |
| #12_210_NAT | 7250 | FT |
| #12_NU-FLEX_HTS-520_NAT | 235105 | FT |
| #14_210C_NAT | 7000 | FT |
| #20_710C_NAT_KIC | 4000 | FT |
| #24_710C_NAT | 1500 | FT |
| #2_317_BLK | 750 | FT |
| #2_710C_BLK | 1000 | FT |
| #3_NU-FLEX_HTS-520_NAT | 2000 | FT |
| #5_547R_VOL-SIL_A_NAT | 500 | FT |
| #8_710C_BLK | 7500 | FT |
| #9_210C_NAT-KIC | 10000 | FT |
| 1/4IN_900_BLK | 2636 | FT |
| 1/8IN_900_BLK | 3289 | FT |
| T117U01520WH | 4313 | FT |
| 1200-06 | 19 | PC |
| CPA300-1/4-BLK-48 | 916 | FT |
| CPA300-1IN-BLK-48 | 100 | FT |
| CPA300-3/16-BLK-48 | 200 | FT |
| DERAY-KY175-0250-CR-UNP-48 | 52 | FT |
| 1635F-1/2-WH-SP | 600 | FT |
| 1635F-1/4-BK-SP | 2299 | FT |
| 1635F-1/8-BK-SP | 2500 | FT |
| 1635F-3/16-BK-SP | 1750 | FT |
| 1635F-3/16-CL-SP | 750 | FT |
| 1635F-3/16-RD-SP | 30 | FT |
| 1635S-1/16-BLK-SP | 1107 | FT |
| 1675-1/16-CL-STK | 600 | FT |
| 1675-1IN-CL-STK | 100 | FT |
| 1675-3/16-CL_STK | 136 | FT |
| 1675-3/4-CL_STK | 100 | FT |
| 3635-1/4-WH-SP | 4995 | FT |
| 1-1/2_1151_FR-B_G-B | 155 | FT |
| 1/2_1151_FR-B | 250 | FT |
| 1/2_EXP_FR-TW_BLK | 4500 | FT |
| 1/2_EXP_GD_PLUS_BLK | 500 | FT |
| 1/2_EXP_HR_BLK | 350 | FT |
| 1/2_EXP_HR_BLK_PLUS | 13780 | FT |
| 1/2_EXP_HTNS-L/HO_GRN | 164 | FT |
| 1/2_EXP_PFA_NAT | 1000 | FT |
| 1/2_ROUNDIT_2000_FR | 12584 | FT |
| 1/4_EXP_C8844-1_BLK | 60 | FT |
| 1/4_EXP_FR-TW_BLK | 2000 | FT |
| 1/4_EXP_HR_BLK | 1000 | FT |
| 1/4_EXP_HR_BLK_PLUS | 8100 | FT |
| 1/4_EXP_HR_WHT | 1000 | FT |
| 1/8_EXP_FR_BLK | 1496 | FT |
| 1/8_EXP_HR_BLK | 3000 | FT |
| 1/8_EXP_PT_BLK_PLUS | 2340 | FT |
| 1IN_1151-FR-B_GRADE-B | 500 | FT |
| 1IN_ROUNDIT_2000 | 82 | FT |
| 1IN_ROUNDIT_PPS_BLK_W/WHT | 164 | FT |
| 1_1/2_EXP_DM_BLU | 1000 | FT |
| 1_1/2_EXP_PT_HD_BLK | 1000 | FT |
| 1_1/2_ROUNDIT_2000 | 98 | FT |
| 1_1/4_EXP_686_DM_BLK/WHT | 1127 | FT |
| 1_1/4_EXP_FR_BLK/WHT_TRCR | 42 | FT |
| 1_1/4_EXP_GD_PLUS_BLK | 750 | FT |
| 1_1/4_EXP_PT_BLK_PLUS | 1000 | FT |
| 1_3/4_EXP_HR_BLK | 250 | FT |
| 2IN_EXP_SLVG_HD_BLK | 1000 | FT |
| 3/16_ROUNDIT_2000 | 492 | FT |
| 3/4_EXP_FR_BLK_PLUS | 900 | FT |
| 3/4_EXP_GD_PLUS_BLK | 250 | FT |
| 3/4_EXP_HR_BLK_PLUS | 500 | FT |
| 3/4_EXP_HTNS-L/HO_GRN | 492 | FT |
| 3/4_ROUNDIT_PPS_BLK_W/WHT | 1804 | FT |
| 3IN_EXP_HD_BLK | 800 | FT |
| 5/16_ROUNDIT_2000 | 1206 | FT |
| 5/8_EXP_HTNS-L/HO_GRN | 492 | FT |
| 5/8_ROUNDIT_2000_NX_16-5 | 72 | FT |
| #14_7444_WHT_GRAYLINE | 5000 | FT |
| #1_7444_WHT_GRAYLINE | 4050 | FT |
| #3_7444_CLR_GRAYLINE | 50 | FT |
| 1-1/4_7444_WHT_GRAYLINE | 200 | FT |
| 1/2_7444_BLK_GRAYLINE | 100 | FT |
| 1/4_7444_WHT_GRAYLINE | 1000 | FT |
| 9/16_7444_CLR_GRAYLINE | 275 | FT |
| 1/4_HIX_BLK_S | 100 | FT |
| 3/8_HIX_BLK_S | 100 | FT |
| 3/8_XPF_BLK | 539 | FT |
| MRS4651-S-1/8-0 | 0.783 | FT |
| TTR-4.33ZJ | 50 | EA |
| #0_INSUL_105_CLR | 1000 | FT |
| #11_INSUL_105_CLR | 700 | FT |
| #12_INSUL_105_BLK | 900 | FT |
| #14_INSUL_105_CLR | 13849 | FT |
| #17_INSUL_105_BLK | 4497 | FT |
| #22_INSUL_105_WHT | 28094 | FT |
| #22_INSUL_105_YLW | 2437 | FT |
| #3_INSUL_105_CLR | 3500 | FT |
| #3_INSUL_105_WHT | 1994 | FT |
| #4_INSUL_105_CLR | 370 | FT |
| #7_INSUL_105_CLR | 3000 | FT |
| #8_INSUL_105_BLK | 200 | FT |
| #8_INSUL_105_CLR | 397 | FT |
| #9_INSUL_105_BLK | 36193 | FT |
| 1/8_HS_105_CLR | 1646 | FT |
| 1IN_HS_105_BLK | 500 | FT |
| 1IN_INSUL_105_CLR | 40 | FT |
| 3/16_HS_105_BLK | 2750 | FT |
| 3/4_INSUL_105_BLK | 250 | FT |
| 7/16_INSUL_105_CLR | 2000 | FT |
| 7/8_INSUL_105_CLR | 220 | FT |
| 48-0104-00 | 2 | EA |
| DEMO-FL80 | 1 | EA |
| FLG2 | 1 | EA |
| FLG3-BULB | 2 | EA |
| 7-V2008-111AA | 10000 | EA |
| 1/2_HT_N | 100 | FT |
| 1/2_HT_T_NAT | 5000 | FT |
| 1/8_HT_N | 500 | FT |
| PLT1M-C | 2000 | EA |
| PLT1M-C76 | 1269 | EA |
| PNF14-14R-M | 500 | PC |
| SE50PFR-CR0 | 7 | RL |
| 0.218_MYLAR_INSULATOR | 3400 | PC |
| 07051_REFLECTOR | 3 | EA |
| 07061_REFLECTOR_NOZZLE | 1 | EA |
| 07071_REDUCTION_NOZZLE | 3 | EA |
| 07081_REDUCTION_NOZZLE | 6 | EA |
| 07301_REFLECTOR | 10 | EA |
| 07461_REFLECTOR | 6 | EA |
| SV800 | 4 | EA |
| BBIT-100/40-A/U | 50 | FT |
| BBIT-40/16-A/U | 120 | FT |
| BPTM-15/6-A/U | 100 | FT |
| BPTM-30/12-A/U | 68 | FT |
| BPTM-50/20-A/U | 50 | FT |
| BPTM-75/30-A/U | 107 | FT |
| CBR-3-1-A-(B100) | 1257 | PC |
| CBR-4-1-A-(B120) | 141 | PC |
| CBR-4-2-A-(B65) | 11 | PC |
| CBR-4-3-A | 3 | EA |
| ESC-2/A(B200/10) | 30 | PC |
| ESC-3/A(B200) | 151 | PC |
| ESC-4/A | 8 | PC |
| FCSM-19/6-150-S | 50 | PC |
| HVIA-STRIPPER-35/90-US | 6 | PC |
| HVT-Z-152-G | 2 | PC |
| MCK-3V | 5 | EA |
| MCK-4V | 5 | PC |
| MWTM-85/25-1500-U | 10 | PC |
| WCSM-16/4-1200-S-(B25) | 25 | PC |
| WCSM-48/12-1200-S(B10) | 15 | PC |
| WCSM-70/20-1200-S-(B10) | 6 | PC |
| 000W280-TAPE | 48 | RL |
| 1330-0617-10 | 3 | PC |
| 2000P-RIBBON-4AG-NAR | 9 | PC |
| 201M108-19C | 257 | PC |
| 201M110-19C | 214 | PC |
| 201M114-19C | 47 | PC |
| 201M124-19B | 9 | PC |
| 202A111-3/42-0 | 25 | PC |
| 202A121-25/86-0 | 1 | EA |
| 202A142-3-0 | 50 | PC |
| 202A153-25-0 | 25 | PC |
| 202C611-71/180-0 | 23 | PC |
| 202C642-71-0 | 645 | PC |
| 202D121-25-0 | 642 | PC |
| 202D121-3/42-0 | 371 | PC |
| 202D132-3-0 | 44 | PC |
| 202D142-3-0 | 65 | PC |
| 202D153-12-20-0 | 25 | PC |
| 202D163-25-0 | 122 | PC |
| 202D163-4/86-0 | 50 | PC |
| 202D211-25-0 | 241 | PC |
| 202D211-4/180-0 | 48 | PC |
| 202D921-3/86-0 | 249 | PC |
| 202F211-71/42-0 | 90 | EA |
| 202F221-71/42-0 | 130 | PC |
| 202K121-100-0 | 50 | PC |
| 202K121-25/225-0 | 480 | PC |
| 202K121-3-0 | 15 | PC |
| 202K132-100-0 | 90 | PC |
| 202K132-25-01-0 | 25 | PC |
| 202K132-25/86-0 | 79 | PC |
| 202K163-4-0 | 75 | PC |
| 202K232-25-0 | 61 | EA |
| 203M010-19A05 | 23 | PC |
| 209M308-19B | 4 | EA |
| 209M408-19C | 102 | PC |
| 209M410-19C | 411 | PC |
| 209M422-19B | 2 | PC |
| 209M424-19B | 74 | PC |
| 214A032-4-0 | 476 | PC |
| 214A042-4-0 | 224 | PC |
| 222A111-4-0 | 65 | PC |
| 222A121-3-0 | 125 | PC |
| 222A213-25-0-CS5613 | 75 | PC |
| 222D142-4-0 | 490 | PC |
| 222D152-12-0 | 48 | EA |
| 222K121-25-0 | 5 | EA |
| 222K142-25-0 | 31 | PC |
| 222K142-25/225-0 | 30 | PC |
| 234A621-3-0 | 200 | PC |
| 301A028-25-0 | 50 | PC |
| 302A821-4-0 | 853 | PC |
| 322A112-25-0 | 25 | PC |
| 322A434-25-0 | 132 | PC |
| 342A012-4-0 | 62 | PC |
| 342A024-25-0 | 39 | PC |
| 342A124-25-0 | 8 | PC |
| 381A301-71/42-0 | 262 | PC |
| 381A301-71/86-0 | 200 | PC |
| 382A012-4/180-0 | 20 | PC |
| 382A023-25-0 | 89 | PC |
| 44A9089-16-0/9-9CS2514 | 4937 | FT |
| 462A034-25-0 | 100 | PC |
| 562A032-25-0 | 30 | PC |
| 562A043-25-0 | 33 | PC |
| ATUM-3/1-0-STK | 1076 | FT |
| B-020-22-N | 3 | PC |
| B-023-00 | 340 | PC |
| B-040-22-N | 2411 | PC |
| B-044-24-N | 65 | PC |
| B-106-1502 | 700 | PC |
| B-155-3809 | 2450 | PC |
| B-155-3811 | 14800 | PC |
| B-900-02 | 350 | PC |
| CGPE-105-1/16-0-SP | 3000 | FT |
| CGPE-105-3/8-0-SP | 152 | FT |
| CM-SCE-TP-1/2-4H-9 | 4000 | PC |
| CM-SCE-TP-1/4-4H-9 | 250 | PC |
| CONVOLEX-3/8-0-SP | 196 | FT |
| CRN-3/32-X-STK | 532 | FT |
| CRN-3/8-X-STK | 396 | FT |
| CTA-0012 | 250 | PC |
| CTA-0036 | 9 | PC |
| CWT-11 | 1050 | PC |
| CWT-5 | 300 | PC |
| CWT-7 | 240 | PC |
| CWT-9002 | 3500 | PC |
| CWT-9003 | 3500 | PC |
| D-103-00 | 710 | PC |
| D-104-00 | 2043 | PC |
| D-107-00 | 1100 | PC |
| D-108-02 | 100 | PC |
| D-108-03 | 500 | PC |
| D-108-07 | 840 | PC |
| D-108-11 | 100 | PC |
| D-108-12 | 46 | PC |
| D-110-00 | 9381 | PC |
| D-110-0101 | 500 | PC |
| D-110-35 | 4840 | PC |
| D-110-40 | 1500 | PC |
| D-110-41 | 1718 | PC |
| D-133-17 | 100 | PC |
| D-136-03 | 900 | PC |
| D-141-19 | 1228 | PC |
| D-142-51 | 9476 | PC |
| D-144-00 | 6304 | PC |
| D-144-01 | 674 | PC |
| D-144-02 | 600 | PC |
| D-146-0206 | 5710 | PC |
| D-146-0207 | 13000 | PC |
| D-146-0208 | 7990 | PC |
| D-148-0207 | 450 | PC |
| D-150-9133 | 30 | PC |
| D-1744-01CS378 | 679 | PC |
| D-181-1220-90/9 | 200 | PC |
| D-181-1222-90/9 | 725 | PC |
| D-181-1224-90/9 | 1075 | PC |
| D-200-83 | 34300 | EA |
| D-300-01 | 200 | PC |
| D-300-02 | 1134 | PC |
| D-300-12 | 75 | PC |
| D-406-0001 | 1605 | PC |
| D-406-0002 | 4300 | PC |
| D-436-0125 | 1260 | PC |
| D-436-0128 | 24300 | PC |
| D-436-37 | 580 | PC |
| D-436-52CS391 | 600 | PC |
| D-436-60 | 900 | PC |
| D-436-75 | 428 | PC |
| D-436-89CS2897 | 850 | PC |
| D-438-0101 | 2000 | PC |
| D-602-0093 | 234 | PC |
| D-609-04 | 2300 | PC |
| D-609-05 | 6000 | PC |
| D-609-08 | 344 | PC |
| D-609-09 | 4899 | PC |
| D-609-10 | 3200 | PC |
| D-609-12CS351 | 8000 | PC |
| D-621-0466CS254 | 10 | PC |
| D-704-0056CS288 | 30000 | PC |
| D-SCE-1K-2.4-50-1-CS7834 | 5000 | PC |
| D-SCE-1K-3.2-50-2-CS7834 | 1000 | PC |
| D-SCE-1K-3.2-50-7-CS7834 | 1000 | PC |
| D-SCE-1K-6.4-50-3-CS7834 | 1000 | PC |
| D-SCE-1K-6.4-50-4-CS7834 | 2000 | PC |
| D-SCE-1K-6.4-50-8-CS7834 | 1000 | PC |
| DCPT-12/6-45-SP | 224 | MR |
| DK-621-0411-P | 17 | PC |
| DK-621-0411-S | 129 | PC |
| DK-621-0412-P | 46 | PC |
| DK-621-0412-S | 47 | PC |
| DR-25-TW-3/8-0-SP | 75 | MR |
| ES2000-NO.4-B7-0-50MM | 9000 | PC |
| FL2500-NO.3-J1-0-STK | 145 | PC |
| FLX40-020-04-CS8651 | 6 | PC |
| FLX40-030-02-CS8652 | 182 | PC |
| FLX40-040-01-CS8653 | 9 | PC |
| HCTE-0750-0-SP | 500 | FT |
| HT-SCE-1-2.0-0 | 750 | PC |
| HT-SCE-1-2.0-9 | 270 | PC |
| HT-SCE-1/2-2.0-0 | 2750 | PC |
| HT-SCE-1/4-2.0-0 | 9123 | PC |
| HT-SCE-1/8-2.0-0 | 4000 | PC |
| HT-SCE-1/8-2.0-9 | 324 | PC |
| HT-SCE-1K-1/2-2.0-0 | 1000 | PC |
| HT-SCE-1K-3/32-2.0-9 | 2000 | PC |
| HT-SCE-3/4-2.0-0 | 1250 | PC |
| HTCM-SCE-TP-1/2-6H-9 | 3000 | PC |
| HTTMS-3/8-1.50-9 | 1500 | PC |
| LNCL-15-260-SS | 544 | PC |
| MP-254127-10-8A | 3 | RL |
| MT-LWA-.094-X-SP | 23400 | FT |
| MT1000-1/16-X-STK | 2740 | FT |
| MT2000-3.0-0-SP | 7599 | FT |
| MT2000-6.0-4-SP | 2910 | FT |
| MT2000-6.0-9-SP | 2074 | FT |
| MT5000-1/2-X-SP | 398 | FT |
| MT5000-3/32-0-SP | 4461 | FT |
| MTZH-1-1/2-F9-0-SP | 15 | FT |
| MTZH-1/2-F9-0-SP | 225 | FT |
| NT-MIL-1-1/4-0-SP | 159 | FT |
| PD-CAP-1/4-0 | 5500 | PC |
| QFT1-130/42-0 | 590 | EA |
| R85049/90-19W03 | 19 | PC |
| RAY-103-3.0(100) | 100 | MR |
| RAY-103-4.0(100) | 200 | MR |
| RAY-103-7.5(100) | 100 | MR |
| RBD-75-M-00 | 8 | PC |
| RMW-75/22-1200/ADH-0 | 851 | PC |
| RMW-75/22-1200/ADH-0 | 4 | PC |
| RNF-100-1-1/4-WH-SP | 80 | FT |
| RNF-100-1/2-BU-STK | 580 | FT |
| RNF-100-1/2-YO-STK | 68 | FT |
| RNF-100-1/8-BN-STK | 6320 | FT |
| RNF-100-1/8-GN-STK | 4863 | FT |
| RNF-100-3-BK-SP | 62 | FT |
| RNF-100-3/16-OR-STK | 1700 | FT |
| RNF-100-3/32-GN-STK | 1488 | FT |
| RNF-100-3/32-OR-STK | 4000 | FT |
| RNF-100-3/64-BU-SP | 12794 | FT |
| RNF-100-3/8-BU-FSP | 24796 | FT |
| RNF-100-3/8-BU-SP | 38204 | FT |
| RNF-100-3/8-RD-STK | 200 | FT |
| RNF-100-3/8-WH-STK | 20 | FT |
| RNF-100-NO.322-BK-SP | 3083 | FT |
| RNF-3000-12/4-0-SP | 65 | MR |
| RNF-3000-18/6-0-SP | 415 | MR |
| RPS-1K-16-10/2.0-9 | 97000 | PC |
| RPS-1K-22-18/2.0-9 | 14000 | PC |
| RPS-400-1000/2.0-4 | 1750 | PC |
| RPS-6-250/2.0-4 | 1000 | EA |
| RPS-8-4/2.0-9 | 3500 | PC |
| RW-175-0.300-X-STK | 4856 | FT |
| RW-175-1/8-0-STK | 172 | FT |
| RW-175-3/32-X-STK-CS5405 | 2000 | FT |
| S02-12-RCS453 | 509 | PC |
| S02-18-RCS453 | 12674 | PC |
| S02-20-RCS453 | 300 | PC |
| S03-07-R-100 | 200 | PC |
| S1017-1.0X50 | 57 | RL |
| S1048-TAPE-1X100-FT | 2 | RL |
| S1048-TAPE-1X100FT-CS8431 | 3 | PC |
| S200-1-00 | 340 | PC |
| S200-1-W1-22-9 | 100 | PC |
| S200-2-00 | 1300 | EA |
| S200-3-00 | 200 | PC |
| S200-4-W1-22-9 | 100 | PC |
| S200-5-01-100HN | 930 | PC |
| SAS-160-1-1030-0 | 2000 | PC |
| SBP100375WE2.5 | 2 | RL |
| SBP200375WE2.5 | 1 | RL |
| SCL-1/2-6-STK | 48 | FT |
| SCT-NO.1-E6-0-STK | 2500 | PC |
| SO63-2-00 | 200 | PC |
| SO63-2-01 | 1367 | PC |
| SO63-2-55-22-90 | 633 | PC |
| SO63-2-55-24-9 | 800 | PC |
| SO63-2-9030 | 3067 | PC |
| SO63-3-00 | 562 | PC |
| SO63-3-55-20-9 | 290 | PC |
| SO63-3-55-24-9 | 100 | PC |
| SO63-3-55-24-90 | 50 | PC |
| SO63-3-9030 | 1000 | PC |
| SO63-4-00 | 142 | PC |
| SO63-4-01 | 2100 | PC |
| SO63-4-55-20-90 | 80 | PC |
| SO63-4-55-24-9 | 400 | EA |
| SO63-4-9030 | 1229 | PC |
| SO63-5-00 | 545 | PC |
| SO63-5-9030 | 3700 | PC |
| SO96-3-00 | 1700 | PC |
| SO96-4-01 | 100 | PC |
| SST-6-04/FR/97-CS8407 | 144 | PC |
| ST63-2-55-22-90 | 900 | PC |
| T300-RIBBON-WH-4HT | 2 | PC |
| TC-CAPS-4003-2CS5504 | 1338 | PC |
| TC-CAPS-4005-8 | 2819 | PC |
| TC-CAPS-4005-8CS5655 | 4763 | PC |
| TMS-101-RIBBON-4RPSCE | 23 | PC |
| TMS-SCE-1-1/2-2.0-4 | 335 | PC |
| TMS-SCE-1-2.0-4 | 2628 | PC |
| TMS-SCE-1.5K-3/8-2.0-9 | 64500 | PC |
| TMS-SCE-1/4-2.0-0 | 1200 | PC |
| TMS-SCE-1/4-2.0-3 | 500 | PC |
| TMS-SCE-1/8-2.0-0 | 15672 | PC |
| TMS-SCE-1/8-2.0-3 | 1750 | PC |
| TMS-SCE-1/8-2.0-4 | 10750 | PC |
| TMS-SCE-1K-1-1/2S2C150-9CS8755 | 2000 | PC |
| TMS-SCE-1K-1-2.0-9 | 8000 | PC |
| TMS-SCE-1K-1-2.0-S1-9CS8755 | 6000 | PC |
| TMS-SCE-1K-1/2-2.0-8 | 1000 | PC |
| TMS-SCE-1K-1/2-2.0-9 | 58000 | PC |
| TMS-SCE-1K-1/2-2.0-S1-9 | 5000 | PC |
| TMS-SCE-1K-1/4-2.0-9 | 31000 | PC |
| TMS-SCE-1K-1/8-2.0-9 | 1000 | PC |
| TMS-SCE-1K-2-1/4-S2C1509CS8755 | 5000 | PC |
| TMS-SCE-1K-3/4-2.0-9 | 1000 | PC |
| TMS-SCE-1K-3/8-2.0-9 | 9000 | PC |
| TMS-SCE-3/16-2.0-0 | 4000 | PC |
| TMS-SCE-3/16-2.0-4 | 4750 | PC |
| TMS-SCE-3/16-2.0-S2-9 | 500 | PC |
| TMS-SCE-3/32-2.0-4 | 2750 | PC |
| TMS-SCE-3/4-2.0-4 | 4940 | PC |
| TR04BI-TINEL-LOCK-RING | 15 | PC |
| TR06AI-TINEL-LOCK-RING | 25 | PC |
| TR10BI-TINEL-LOCK-RING | 51 | PC |
| TR12BI-TINEL-LOCK-RING | 1 | PC |
| TR14AI-TINEL-LOCK-RING | 57 | PC |
| TR22BI-TINEL-LOCK-RING | 28 | EA |
| TTMS-12.7-4 | 400 | MR |
| TTMS-12.7-9 | 200 | MR |
| TTMS-19.0-4 | 300 | MR |
| TTMS-2.4-9 | 900 | MR |
| TTMS-3.2-4 | 300 | MR |
| TTMS-38.1-9 | 50 | MR |
| TTMS-4.8-9 | 263 | MR |
| TTMS-9.5-9 | 179 | MR |
| TTVF100YW-100 | 11 | PC |
| TXR18AB00-1404AI | 10 | EA |
| TXR18AB00-1405AI | 20 | PC |
| TXR18AB00-2210AI | 4 | PC |
| TXR18AB00-2212AI | 9 | PC |
| TXR18AB00-2804AI | 5 | PC |
| TXR18AB00-2812AI | 8 | PC |
| TXR18AB00C1206AI | 75 | PC |
| TXR18AB90-1004AI | 30 | PC |
| TXR21AB00-1006AI | 45 | PC |
| TXR21AB00-1610AI | 4 | PC |
| TXR21AB00-1612AI | 29 | PC |
| TXR40AB00-1007AI | 9 | PC |
| TXR40AB00-1007BI | 6 | PC |
| TXR40AB00-1207AI | 7 | PC |
| TXR40AB00-1208AI | 3 | PC |
| TXR40AB00-1406AI | 11 | PC |
| TXR40AB00-1407AI | 10 | PC |
| TXR40AB00-1408AI | 39 | PC |
| TXR40AB00-1410AI | 1 | PC |
| TXR40AB00-1606AI | 244 | PC |
| TXR40AB00-1608AI | 10 | PC |
| TXR40AB00-1610BI | 2 | PC |
| TXR40AB00-1612AI | 5 | PC |
| TXR40AB00-1808AI | 132 | PC |
| TXR40AB00-1812AI | 15 | PC |
| TXR40AB00-2012AI | 99 | PC |
| TXR40AB00-2014AI | 21 | PC |
| TXR40AB00-2016AI | 58 | PC |
| TXR40AB00-2018AI | 9 | PC |
| TXR40AB00-2212AI | 50 | PC |
| TXR40AB00-2214AI | 90 | PC |
| TXR40AB00-2216AI | 21 | PC |
| TXR40AB00-2410AI | 118 | PC |
| TXR40AB00-2412AI | 175 | PC |
| TXR40AB00-2420AI | 50 | PC |
| TXR40AB45-2014AI | 1 | PC |
| TXR40AB45-2216BI | 20 | PC |
| TXR40AB90-0804BI | 130 | PC |
| TXR40AB90-0804BIL | 75 | PC |
| TXR40AB90-1004AI | 1 | PC |
| TXR40AB90-1204AI | 3 | PC |
| TXR40AB90-1206AI | 1 | PC |
| TXR40AB90-1610AI | 62 | PC |
| TXR40AB90-1812BI | 15 | PC |
| TXR40AB90-2014AI | 27 | PC |
| TXR40AB90-2210AI | 5 | PC |
| TXR40AB90-2212AI | 19 | EA |
| TXR40AB90-2216AI | 7 | PC |
| TXR40AB90-2218AI | 16 | PC |
| TXR40AB90-2412AI | 5 | PC |
| TXR40AB90-2414AI | 12 | EA |
| TXR40AC00-0804AIL-CS9075 | 75 | PC |
| TXR40AC00-1406AI | 30 | EA |
| TXR40AC00-1408AI | 3 | PC |
| TXR40AC00-2214AI | 49 | PC |
| TXR40AC00-2214AIL-CS9075 | 133 | PC |
| TXR40AC45-0804AI | 165 | PC |
| TXR40AC45-2420AIL | 33 | PC |
| TXR40AC90-0804AI | 156 | PC |
| TXR40AC90-2214AI | 77 | PC |
| TXR40BB00-2016AI | 10 | PC |
| TXR40BB00-2416AI | 10 | PC |
| TXR40SC00-1610AI | 11 | PC |
| TXR40SC90-1208AI | 27 | PC |
| TXR41AB00-1005AI | 45 | PC |
| TXR41AB00-1006AI | 1 | PC |
| TXR41AB00-1804AI | 9 | PC |
| TXR41AB00-1805AI | 2 | EA |
| TXR41AB00-2014AI | 4 | PC |
| TXR41AB00-2416AI | 12 | PC |
| TXR41AB90-1806AI | 10 | PC |
| TXR41AB90-1810AI | 11 | EA |
| TXR41AB90-1812AI | 9 | PC |
| TXR41AB90-2210AI | 25 | PC |
| TXR41AB90-2218AI | 3 | EA |
| TXR41AC00-0804AI | 16 | PC |
| TXR41AC00-1006AI | 15 | PC |
| TXR51AB00-2212AI | 30 | PC |
| TXR54AB00-0804AI | 8 | PC |
| TXR54AB00-1204BI | 4 | PC |
| TXR54AB00-1206AI | 2 | PC |
| TXR54AB00-1207AI | 1 | PC |
| TXR54AB00-1208BI | 8 | EA |
| TXR54AB00-1404AI | 4 | PC |
| TXR54AB00-1404BI | 8 | EA |
| TXR54AB00-1408AI | 1 | PC |
| TXR54AB00-1610AI | 52 | PC |
| TXR54AB00-1812AI | 2 | PC |
| TXR54AB00-2012BI | 1 | EA |
| TXR54AB00-2416AI | 10 | PC |
| TXR54AB45-1006AI | 1 | EA |
| TXR54AB90-0804AI | 10 | PC |
| TXR54AB90-1204BI | 60 | PC |
| TXR54AB90-1207AI | 5 | PC |
| TXR54AB90-1405AI | 4 | PC |
| TXR54AB90-1406AI | 56 | PC |
| TXR54AB90-1412BI | 46 | EA |
| TXR54AB90-2010AI | 11 | PC |
| TXR54AB90-2012BI | 100 | PC |
| TXR54AB90-2216AI | 9 | PC |
| TXR54AB90-2216BI | 6 | PC |
| TXR54AC00-1004BIL | 282 | EA |
| TXR54AC00-2014AIL | 175 | PC |
| TXR54AC45-0804AI | 20 | PC |
| TXR54AC90-0804AIL-CS9067 | 136 | PC |
| TXR54AC90-1004AIL-CS9067 | 250 | PC |
| TXR54AC90-1004BIL | 265 | PC |
| TXR54SC00-3224AI | 8 | PC |
| V4-1.0-0-SP | 1771 | MR |
| V4-7.0-0-SP-SM | 1699 | MR |
| VERSAFIT-1/4-3-SP | 2000 | FT |
| VERSAFIT-1/8-6-SP | 4428 | FT |
| VERSAFIT-3-0-SP | 1082.4 | FT |
| VERSAFIT-3/16-6-SP | 1371 | FT |
| VERSAFIT-3/8-0-SP | 786 | FT |
| VERSAFIT-3X-3/4-0-SP | 4250 | FT |
| WP-203127-10-9 | 2 | RL |
| XFFR-07X4 | 3 | EA |
| ZHTM-18/9-0-SP | 150 | MR |
| ZHTM-8/4-0-SP | 360 | MR |
| PTN0.25BK | 4000 | FT |
| PTN0.75BK | 850 | FT |
| HT-SCE-1/2-2.0-9 | 250 | PC |
| SO96-4-00 | 500 | PC |
| #0_VARFLEX_HC1_BLUE | 610 | FT |
| #2_NON-FRAY_HO_NAT | 250 | FT |
| 1/4_VARSPAN_HT_BLK/WH_ROCKWELL | 12 | FT |
| 2IN_ES-4400_BLUE/GRAY_RA1 | 18 | FT |
| 4IN_VAR_SIL_RUBBER_HA1_NAT | 30 | FT |
| 15_TOF_13G_NAT | 7 | RL |
| 20_DOF_9W_BLK | 11 | RL |
| 225_NOR_32_NAT | 6 | RL |
| 30_HOF_13N | 2 | RL |
| 32_NOZ_3W_NAT | 6 | RL |
| 40_HOF_17R_BLU_W/TRCR | 7 | RL |
| 40_HOF_17R_GRN_W/TRCR | 5 | RL |
| 40_HOF_17R_ORG_W/TRCR | 11 | RL |
| 48_NOZ_3W_NAT | 9 | RL |
| 50_DOF_17A_BLK | 11 | RL |
| 50_NOF_17G_BLK | 1 | RL |
| 50_NOF_17W_YLW | 30 | RL |
| 70_HOF_25R_GRN_W/TRCR | 15 | RL |
| 70_HOF_25R_RED_W/TRCR | 15 | RL |
| 80_DOF_29G_NAT | 7 | RL |
| WF-PK0250BK | 2000 | FT |
| WF_FRTW0250BK | 1000 | FT |
| WF_FRTW0750BK | 1000 | FT |
| WF_HR0500BK_N/TRCR | 1500 | FT |
| WF_HR0750BK_N/TRCR | 2000 | FT |
| WF_PK0500BK | 3000 | FT |
| WF_PT0125BK | 5500 | FT |
| WF_PT0250BK | 17923 | FT |
| WF_PT0375BK | 15650 | FT |
| WF_PT1250BK | 1000 | FT |
| WF_PT2000BK_CONTINUOUS | 800 | FT |
| #10TFE_2X_TW_BLK_1IN_LONG | 42000 | PC |
| #10_TFE_2X_LW_NAT | 488 | FT |
| #11_TFE_TW_NAT | 100 | FT |
| #12_TFE_2X_SW_NAT | 312 | FT |
| #12_TFE_SW_NAT | 250 | FT |
| #12_TFE_TW_NAT | 778 | FT |
| #13_TFE_TW_NAT | 1500 | FT |
| #16_FEP_1.3X_NAT_CUT_114IN | 300 | PC |
| #20_TFE_TW_BLK | 1000 | FT |
| #20_TFE_TW_RED | 7000 | FT |
| #20_TFE_TW_WHT | 500 | FT |
| #22_TFE_TW_BLK | 4066 | FT |
| #22_TFE_TW_GRY | 4500 | FT |
| #22_TFE_TW_RED | 6500 | FT |
| #22_TFE_TW_WHT | 9000 | FT |
| #24_TFE_LW_NAT | 170 | FT |
| #24_TFE_LW_WHT | 2500 | FT |
| #26_TFE_LW_BLU | 3500 | FT |
| #4_TFE_SW_NAT | 69 | FT |
| #4_TFE_TW_NAT_100FT | 50 | FT |
| 0.018_+.001/-.002_TFE_SPEC_YLW | 500 | FT |
| 0.026_X_0.044_TFE_SPEC_YLW | 2000 | FT |
| 0.044_X_.068_TFE_SPEC_BLK | 2000 | FT |
| 0.044_X_.068_TFE_SPEC_BLU | 1500 | FT |
| 0.044_X_.068_TFE_SPEC_YLW | 6500 | FT |
| 1/2_SCT_NAT_S(DMS1973DTY1) | 555 | FT |
| 1/8_SCT_NAT | 85 | FT |
| 3/16_TFE_IND_NAT | 250 | FT |
| 3/32_TFE_IND_NAT | 500 | FT |
| 3/8_FEP_1.6_NAT | 300 | FT |
| 7/16_TFE_SW_NAT_CUT_48IN | 75 | EA |
| 7/8_TFE_SW_NAT_9.62IN_+/-.06_LG | 113 | PC |
| FEP_HEAT-SHRINK_CUT_1IN_+/-_.015 | 10000 | PC |
| ZCT-ES-032_BLK | 250 | FT |
| ZDS-S-350 | 80 | FT |
| | | |